On the morning of October 30, 2020, Trung Nam Joint Stock Company (Trungnam Land) signed a cooperation contract and handed over the plane of DITP Tower to LG Electronics Vietnam. It will become the second Center for Research and Development (CR&D) of LG Electronics Vietnam.
LG Electronics Vietnam arrived in Da Nang not long ago, around the beginning of October 2020, but the implementation and initial results exceeded all of our expectations.
We strongly expect the investment plan this time in Da Nang, because we are truly impressed with the development goals of this city. In the near future, our member companies, Research and Development Centers, satellite manufacturers, and auxiliary manufacturers of LG Group will also come to  carry out survey and investing in Da Nang.
Today, with the second CR&D officially opened in Da Nang, we want to affirm our goal of making LG Electronics a leading research and development institute in Vietnam in the near future "- Mr. Jung Seung Min, director of LG DCV Center, emphasized.
Thus, Da Nang city in general and Trung Nam JSC in particular have been overcoming variety challenges in the stage of formation, construction and step-by-step development; infrastructure, open and reasonable policies in attracting investment all that are ready to meet the strict requirements of international businesses.
A vision to anticipate the trend of transferring high-quality workforce
With in-depth cooperation with LG Electronics Vietnam, Trung Nam JSC initially affirmed the goal "DITP TOWER will be a place to anticipate the trend of high-quality workforce transform in the Northwest of Da Nang, the central attracting top talents to specialize on working, building links with the community of experts working in the High-Tech Park & Danang Information Technology Park ".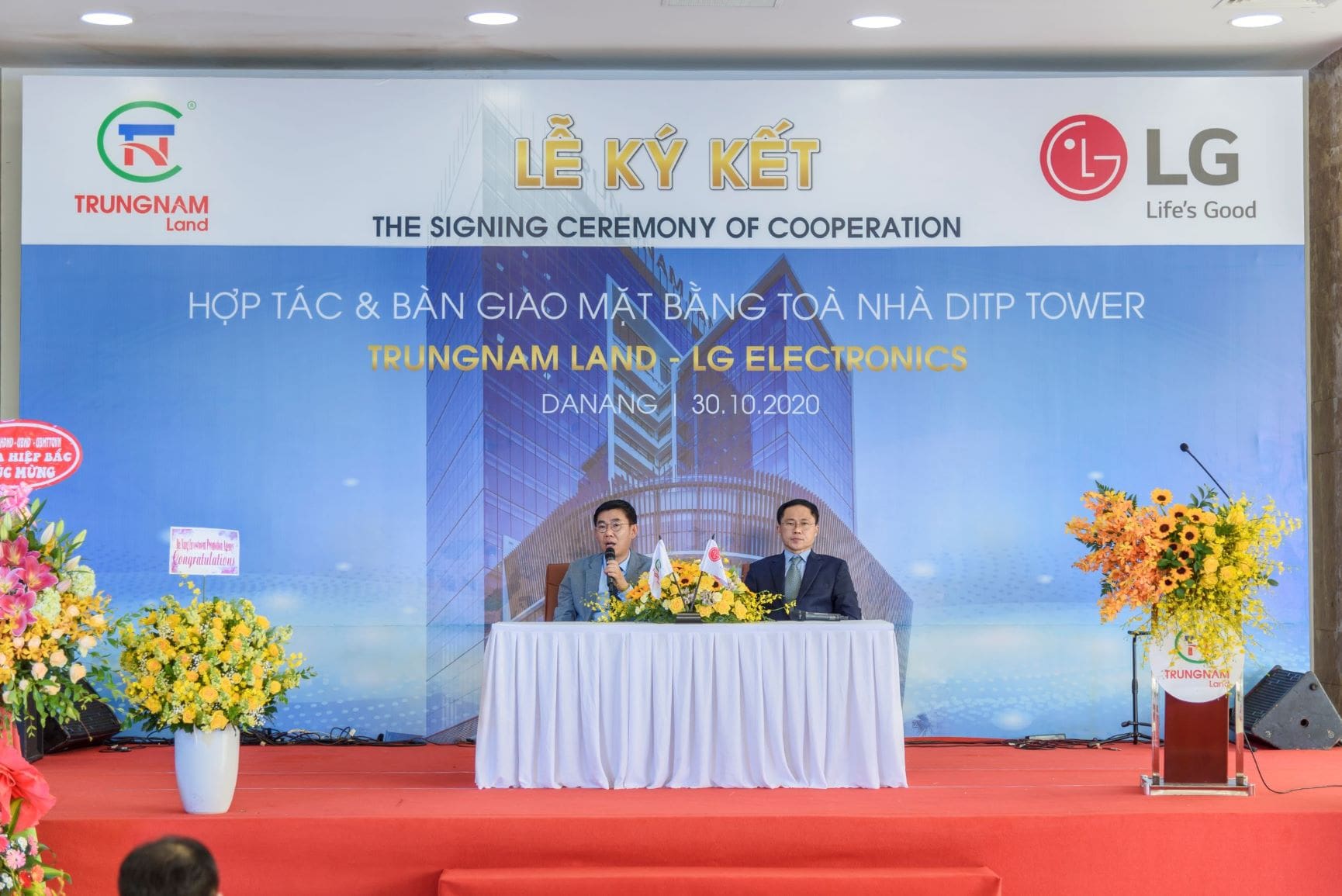 DITP TOWER is recognized as a stepping stone in the process of creating a community of high-quality experts for "Da Nang Silicon Valley" in Da Nang IT Park. The investor of DITP TOWER has affirmed its mark through the determination to invest in modern infrastructure, remove the limitations of space, area as well as associated facilities  which are obstacles for enterprises with advanced technology infrastructure to access.
"In the near future, our experts will come to work at CR&D Danang and there will be more aspects that we are interested in doing research at CR&D Danang. LG Electronics also has an outstanding advantage in software technology, therefore we will develop this sector in Da Nang. In the next few years when Da Nang Software Park No. 2 is completed, we will promote the software sector. We know that many young engineers, programmers in Da Nang or the central provinces tend to start a career or start a business in Ho Chi Minh City, Hanoi …. In the near future, there will be more opportunities for them to work in their homeland, without having to go far.
We call on the talents of Da Nang city who are working in other cities, come back to Danang with us to build and develop their careers in their homeland. We are willing to welcome talented people to work. If anyone knows the talented people in the relevant field, please introduce them to us "- Mr. Kwon Junbo -, Director of Human Resources Department of LG Electronics Vietnam – Hai Phong shared.
Representatives of Trung Nam Joint Stock Company and member companies of Trung Nam Group also shared: We will coordinate, constantly invest and develop more high-end utility systems in the region, creating an eco-system meeting the entertainment and living needs of workers, creating an ideal working environment to attract more high-quality workforce, foreign experts coming and working.
References:
https://toquoc.vn/ky-ket-hop-tac-va-ban-giao-mat-bang-giua-trungnam-land-va-lg-electronics-20201030161237073.htm
https://thuonghieucongluan.com.vn/da-nang-lg-electronics-hop-tac-voi-trung-nam-land-va-mo-trung-tam-tai-tp-da-nang-a117851.html
https://thanhnien.vn/ban-can-biet/lg-electronics-trung-nam-land-hop-tac-co-hoi-thu-hut-nhan-tai-1301780.html