TTO – In the morning of February 9, the investor of the project of Manufacturing and assembling high-tech electronics equipment Surface Mount Technology (SMT) at Da Nang Information Technology Park said that thousands of workers will work through Tet to make sure to schedule this important project.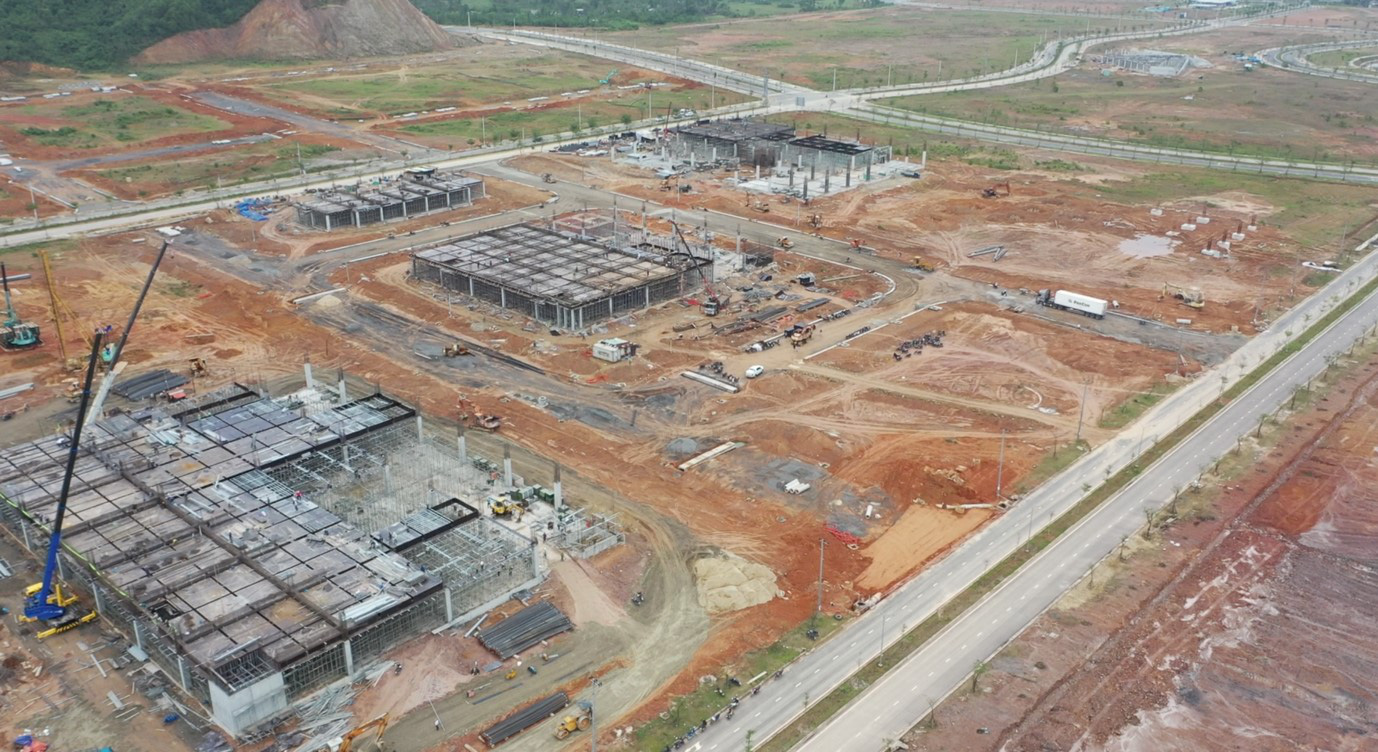 Worker Le Minh Hoa, from Thanh Hoa, said all workers were determined to work through Tet to keep up with the schedule. "When being encouraged by their superiors to participate in the construction of works, our workers unanimously stay in the race for progress. Going to work on Tet holidays, we receive 2 to 3 more wages than normal. In addition to the salary and bonus, the investor also organizes Tet welcoming activities at the construction site, so the workers also reduce their homesickness"- Mr. Hoa shared.
It is known that the project of manufacturing and assembling high-tech electronics equipment Surface Mount Technology (SMT) is invested by Danang IT Park, Trung Nam Group. Construction scale of a 2-storey factory with an area of 2,000 m2 includes 3 SMT technology lines with equipment from Yamaha, Heller and Ersa. It is expected that when the factory is put into operation with a capacity of 7 million products / year, it is oriented to create a foundation for high-tech electronics production and precision engineering, and promote the development of supporting industries in Vietnam.
This is considered a pioneer project in Da Nang and Central Highlands in the field of information technology on a high technology platform. This project brings autonomy in researching, manufacturing and assembling boards and electronic equipment. Especially, it is totally managed and operated by Vietnamese experts, engineers and highly qualified workers.
Mr. Nguyen Anh Huy, director of Da Nang Information Technology Park Development Joint Stock Company, said that using SMT technology brings highly automated production, improving operational productivity as well as creating flexibility to change product details. Boards are used in many fields and equipment, so the demand in the world is very large today.
Catching up with the shifting trend of global supply chains, in which Vietnam is an attractive destination for investors. We are determined to synchronously invest Danang IT Park, fully prepare infrastructure and machinery so that investors can immediately deploy the work "- Mr. Huy shared.
Currently, products of Trung Nam EMS have received a lot of attention from domestic and foreign clients. In order to fulfill large orders, Trung Nam Group will continue to invest in 2 manufacturing plants along with 16 SMT lines, 25 Mechanical Assembly lines, expected to be completed within the year 2021.
Since the COVID-19 epidemic, the leaders of Da Nang city have reoriented economic development with priority given to the development of high-tech industries in information technology. In particular, promoting to call for leading industrial and technology enterprises in the domestically and internationally to invest in the Hi-Tech Park and Information Technology Park in Hoa Lien commune, Hoa Vang district. Recently, many well-known enterprises have chosen to invest in here such as LG Group of Korea, UAC Co., Ltd and Japanese technology corporations.