Reference: https://www.deinternationalvietnam.com/post/da-nang-high-tech-on-the-beach

Year-round warm weather, over 20 km of white sandy beaches, surrounded by lush mountains and with three UNESCO-heritage sites in its vicinity, Da Nang is a top draw for tourists. In fact, Vietnam's fourth largest city has been voted as the country's most popular destination. However, Da Nang is also making a name for itself in high-tech. The city has established a hub for software development and is currently advancing into high-value manufacturing. The ongoing industrial development has been highlighted by some top-notch investments as well as new plans for infrastructure. Da Nang is thus becoming an attractive location not only for vacationers and programmers but also for manufacturing investors.
Please note that this article is part of a marketing project in cooperation with Danang Hi-tech Park and Industrial Zones Authority.
Da Nang lies on the East Sea which grants it access to the Pacific Ocean. On its northern and western side, it is enclosed by the Annamese Cordillera while the central flatlands lie in its south. In the north, Da Nang borders the province Thua Thien Hue and in the south Quang Nam. The city also administers the contested island chain of Hoang Sa. With a population of 1.2 million, Da Nang is Vietnam's fourth largest city after Ho Chi Minh City (HCMC), Hanoi and Haiphong.
Da Nang received first major international recognition when China imposed an embargo on the import of goods from Japan in the 17th century. During this time, its harbor became a transshipment base for goods headed from Japan to China. However, it stood in the shadow of its neighboring city of Hoi An which developed into one of southeast Asia's biggest ports (and whose historical center today is a UNESCO world heritage). Eventually, Da Nang overtook Hoi An's relevance in the 19th century. In 1847, the French made their first foray into Vietnam here. Da Nang became a directly French-controlled holding bolstering the city's significance within "Indochina" in 1887. During the second Indochina War, Da Nang was the first place American troops set foot on Vietnamese soil. It was to become a major American base with its harbor and airport at the center receiving massive infrastructure upgrades. In 1997, Da Nang – together with three other neighboring central provinces became the third "Key Economic Zone" in Vietnam. Today, it is the major economic hub of central Vietnam.
Points of interest in Da Nang (ex Hoang Sa)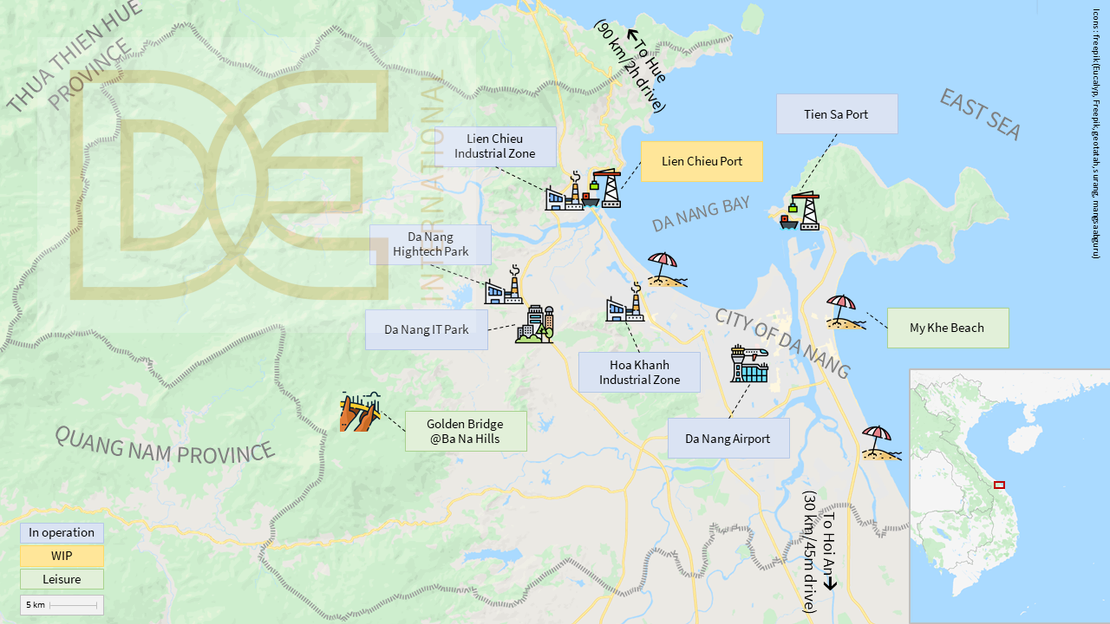 Tourism
Da Nang is one of Vietnam's top tourism destinations. In 2019, roughly 8.7 million visitors arrived in the city. Until last year, numbers were growing in double-digits p.a. Da Nang was voted first among tourists' most popular destinations in Vietnam. Popular sights include its endless beaches (e.g. My Khe), the Marble Mountains, the Dragon Bridge, the Golden Bridge, Ba Na Hills and amusement parks such as Sunworld. Nearby Hoi An, My Son and Hue world heritage sites complete the attractiveness of the city. Almost 30% of Da Nang's GDP are generated by the tourism industry.
The sprawling tourism industry created loads of high-profile hotels and resorts, restaurants, bars and cafés. International-grade hospitals and international schools have also been developed. The outstanding road infrastructure by far surpasses that of Hanoi and HCMC in extensiveness and quality. Roads are not as clogged as in the biggest two Vietnamese metropolises. Also, the air is much cleaner. Thus, Da Nang has created itself a reputation among expats. Many regard it as the most "livable" city in Vietnam.
Da Nang's beaches are a top draw for tourists and expats alike

Airport Development
Da Nang's airport is the main port of entry for most visitors. It dates back to 1940 when the French built its first iteration. Upgrades followed during the first Indochina War by the French (during the 1950s) and during the second Indochina War by the Americans (during the 1960s). For the past twenty years, the airport has seen an upsurge in tourism arrivals and developed accordingly. In 2011, the new "Terminal 1" (today domestic) has been completed and in 2017 "Terminal 2" (today international) followed suit. The airport serves 35 international routes mostly in Asia and 10 domestic destinations. In 2018, it welcomed 13 million passengers making it Vietnam's third-busiest airport after Tan Son Nhat (HCMC) and Noi Bai (Hanoi). It is expected that arrival numbers will grow to 28 million in 2030 while freight will double from its current number to 200,000 t in 2030. Visitors usually praise the airport's convenient access as it is located right in the city center.
Software Industry
Da Nang is quickly becoming a hub for software development for the following reasons:
– Local and international investors value its highly educated and young workforce.
– Office rentals and labor costs in the city are still somewhat lower than in HCMC and Hanoi.
– The living environment with Da Nang's well-established infrastructure and manifold outside leisure activities are a draw.
As a result in 2019, Da Nang exported IT services with a value of 89 million USD, up 14% against 2018. While there are some big players in town like Viettel and FPT, there are also several SMEs such as Asian Tech Co., Ltd., Rikkeisoft Co., Ltd. and Axon Active Viet Nam Co., ltd. About 12,000 people in Da Nang are working in software production and outsourcing. By 2020, this number could be 17,000 and in 2025 it might reach 35,600. There is an existing dedicated Software Park. Another one is being built and by 2025 this number will go up to four. In 2025 the share of software in Da Nang's GDP will reach 10% and in 2030 15%.
Software Development is one of Da Nang's focus industries

Manufacturing Industry
With tourism and software development making up almost 40% of Da Nang's industry it may be said that the city is an established service hub. However, it is also making forays into manufacturing. 1.6 million US-Dollars have flown into industrial investments in Da Nang. Most of these manufacturing activities are originating from Japan, the USA and Korea. As can be seen below, they are concentrating on electronic parts as well as high-value-add products. This sets Da Nang apart from other regions in Vietnam which are more focused on low-value-add goods. The city was able to attract these investments because of the following factors:
– Young and well-educated urban workforce
– Local infrastructure
+ Airport (see above)
+ Port (see below)
+ Road (located on National Road 1A and the new North-South Expressway)
+ Rail (located on the North-South Railway with a dedicated freight station at Lien Chieu)
– Good living environment for expats
Overview: International industrial investments in Da Nang (selection)

A prominent project realized in 2019 is an aircraft part production facility of the Universal Alloy Corporation (UAC). With an investment sum of 170 million USD, this American-Austrian investment currently is the largest foreign project in Da Nang. It aims to utilize Da Nang's ample supply of highly qualified staff. Furthermore, UAC is profiting of Da Nang Hightech Park's favorable location as well as the investment incentives investors can receive here.
With Hoa Khanh, Lien Chieu and Da Nang Hi-tech Park (DNHTP) the city currently has three major industrial zones. Our partner for this article, DNHTP, is the youngest of these projects and thus offers the most available space.
Da Nang Hi-tech Park has been established in 2010 and currently operates 179 ha of land. It is only the third "Hightech Park" after similar projects in Hanoi and Ho Chi Minh City. It offers very competitive pricing for land. Also, investors in DNHTP enjoy CIT exemptions and reductions for up to 28 years after their first year of taxable income. To make use of these incentives, companies have to focus on activities stipulated in a list of investment in "hi-tech" parks in Vietnam. Furthermore, 1% of annual revenue have to be spent on R&D. One more USP of DNHTP is its proximity to the new terminal of Da Nang Port.
Port Development
Da Nang is the central outport for the whole central region. It has had this role since the 19th century when the French administration set up the location of its current main terminal of "Tien Sa". The Americans then expanded the port during the 1960s to support their war efforts in Vietnam. Tien Sa terminal offers a natural port with sufficient draft and calm waters on the Eastern edge of Da Nang Bay. It can receive ships of a size of up to 70,000 DWT and handles about 12 million t of cargo annually. However, while freight volumes are increasing by double-digits, space at Tien Sa is limited. And thus, a new terminal will be built. The "Lien Chieu" terminal is being developed on the western side of Da Nang Bay. Its first phase worth 315 million USD will be finished in 2022 and handle 3.5 million t annually. After all three phases have been completed (probably by the 2030s) the Lien Chieu terminal will handle roughly 20 million t of freight per year. By this time, the current main terminal of Tien Sa will be converted into a tourism port welcoming cruise ships.
Conclusion
Da Nang has a strong standing in Vietnam's recent history. However, after the country's reunification in 1975 the city struggled to live up to its potential. Capitalizing on its natural environment, it eventually developed tourism as a first pillar of its local economy. Its young and qualified workforce then attracted software development companies. IT services today is Da Nang's second economic pillar. In the future, the city will probably shape itself into a magnet for high-tech manufacturing investments. Da Nang's favorable natural environment, its excellent logistical connection, the highly qualified workforce as well as its effective administrative support are key factors for this development. And thus, we will likely see more "High-Tech on the Beach".
…aaaand Action! Here is our video on Da Nang:
If you have any further questions or are in search of a manufacturing location in Vietnam, feel free letting us know. For contact details see: https://vietnam.ahk.de/en/services/investment-location-analysis