Trung Nam EMS provides a complete solution for all of your electronic manufacturing service requests, from fast turnaround prototyping to high volume manufacture. We can detect design and/or production issues during the prototype stage and resolve them (in collaboration with you) before proceeding to production. (PCBA)
Our turnkey or contracted printed circuit board assembly service is ISO 14001:2015 and 9001:2015 certified. We conduct constructive SMD, through-hole, and mixed assembly projects, and we also provide free DFM inspections and function testing based on your individual needs. Plus, there are no minimum cost criteria to meet, and reorders are never subject to an additional tooling charge.
The table below shows our PCBA Capabilities:
No.

Item

Process Capabilities Parameter

24 hours expedited service can be offered. 3- 4 days normally for PCBA prototype orders. We will give you an accurate lead time when we quote for you.

Rigid PCB, Flexible PCB, metal core PCB

±0.035mm(±0.025mm) Cpk≥1.0 (3σ)

Lead/Lead-free HASL, Immersion gold,OPS etc.

Surface mount (SMT), Through-hole (DIP), Mixed technology (SMT & Thru-hole)

BGA Dia. 0.14mm, BGA 0.2mm pitch

Cut Tape, Partial reel, Reel,Tube, Tray, Laser-cut Stainless Steel

We manufacture specialized cables, cable assemblies, wiring looms/harnesses, and power leads for a variety of industries, including automotive, security, mining, medical, and entertainment.

Visual inspection; BGA placement – X-RAY checking; AOI checking.

3 Million~4 Million Soldering Pad/day
PCB assembly system:

(PCBA)
Only the smallest volume of PCBA projects will be handled manually and visually inspected, while the vast majority of larger projects will be processed by dependable automated gear.
Trung Nam EMS will employ automated technology to solder components on PCB as quickly as possible, using your pick and place CAD data. Normally, Automatic Optical Inspection will be used to verify component locations, orientation, and solder quality. When it comes to hunting for flaws in PCBs, AOI technology has shown to be quite dependable.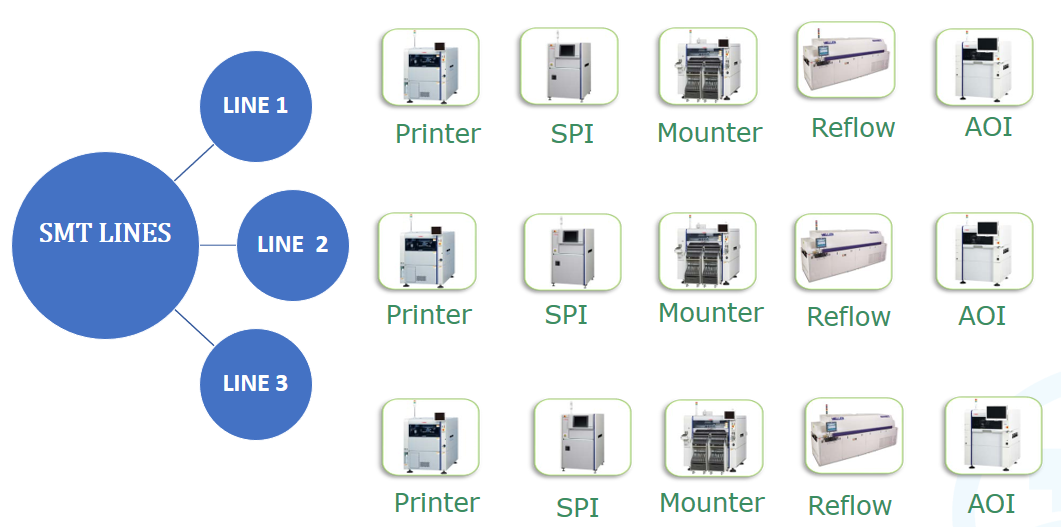 Following assembly, the PCBA images will be given to you so that you may confirm the component positions. Please answer the service email as soon as possible so that your order can be completed and delivered.